The FutureDAMS webinars are an open academic seminar series for everyone interested in the design and assessment of water-energy-food-environment (WEFE) systems. Our research consortium, along with invited guest speakers, will be presenting our research on themes including:
Water resources / power system simulation and optimisation
The social impacts of dams
Political science and governance
Climate, ecology and hydrological science
Economic analyses of dams, including food, agriculutre and livelihoods
Financing dams
To register for a webinar, click the register button by each title.
Presentations will usually follow a standard academic 30-minute format + 15 minutes for questions and moderated discussion. The webinars will take place every two weeks on Zoom and recordings of the webinars will be made available afterwards.
Complete the sign-up form to receive information about upcoming presentations and news from FutureDAMS. If you would like to present a FutureDAMS webinar, please contact Rose Sumner.
Sign up to our e-news for updates:
Upcoming webinars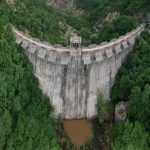 Integrating natural and built infrastructure in water resource development: what's stopping us?
Mark Smith & Matthew McCartney, International Water Management Institute, Sri lanka
Monday 9th November 15:00 – 16:00 (GMT). REGISTER
The FutureDAMS annual forum keynote lecture will explore how to scale up the use of nature based solutions with the effective use of trusted tools to support the planning and design of integrated natural and built infrastructure.
Nature-based solutions have gained a high profile in recent years as policy leaders, development practitioners and business have awakened to the multiple benefits made possible by harnessing services from nature in solutions for sustainable development and the climate crisis. Water security is no different, with the potential for integrating natural infrastructure into planning and investment in water resource management, alongside or in place of built infrastructure, attracting intensifying interest. Further progress in the application, scaling and financing of nature-based solutions for water will benefit from better evidence for how the natural and built infrastructure work in concert, as well as the trade-offs between them. Data, and new tools for interrogating data, will help to bridge divides between nature and engineering in practice and policy. This lecture will explore the challenges encountered in trying to increase use of nature-based solutions for water and methods and tools for overcoming them, including through cases from the Zambezi and Tana basins.
Hydropower in LDCs with Chinese characteristcs
Lila Buckley (IIED) & Professor Wang Hua (PACE) 
*POSTPONED*. New date TBC. 
The focus of this webinar is the dynamics of and safeguarding practices of Chinese overseas hydropower investments, providing insight into whether practices are improving and what is driving this. Understanding these drivers helps us to identify leverage points for improving the social and environmental outcomes of large dams in LDCs.
Anthropogenic intensification of short-duration rainfall extremes: Implications for flash floods in urban areas
Professor Hayley Fowler, Newcastle University
*POSTPONED* New date TBC. 
Hayley will present findings of research on short-duration rainfall intensification, which call for urgent climate-change adaptation measures to manage increasing flood risks, including rethinking the way climate change is incorporated into flood estimation guidance.